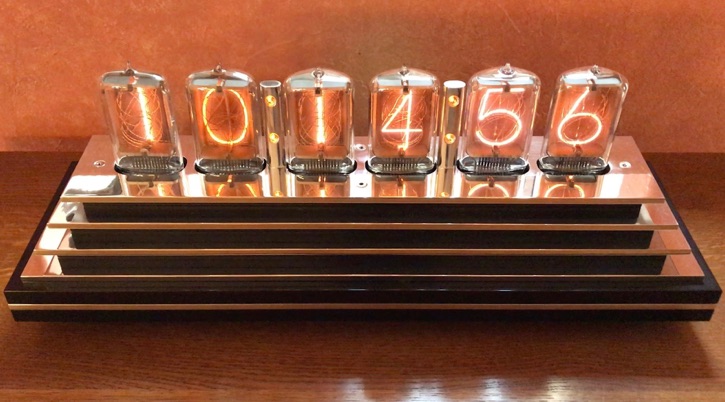 Nixie tube, the name comes from Numeric Indicator Experimental - 1, is a product of the mid 50's to early 90's and no longer manufactured. They are the predecessor to the light emitting diode (LED), and more recently the LCD. They look like vacuum tubes, but are in fact a form of neon lamp filled with a mixture of Neon gas and a small amount of  Mercury or Argon. Inside the tube is a common screen mesh Anode at the front and, behind that, 10 successive formed wire digits or cathodes. Each cathode digit and the common Anode has a pin at the bottom of the tube. To light a digit you simply apply approximately 175VDC between the common Anode and the digit pin with a current limiting resistor in series. When energized the digit illuminates with the warm glow of neon surrounded by just a hint of azure tinge caused by the Mercury.

My obsession with these beautiful and fascinating tubes of yesteryear has driven me to own/modify/create several clocks designed around them. Some clocks were purchased pre-assembled and kept as such and some modified afterwards. The rest are based on Nixie clock kits, the electronics modified, and custom cases designed and built around the electronics.

Lately I am obsessed with the larger and more rare Nixie tubes still 'available' like the German Z5680M and Z568M, the American made NL8091 and B7971,  and the French F9020AA. Eventually I hope to own and build a case for 6 of the gargantuan Japanese CD-47's, but the jury's still out on that one. Building these clocks incorporates many of the things I love to dabble in; electronics, woodworking, metalworking...but mostly, they serve as a medium for me to be creative with no rules.

Please have a look at all my clocks below and click on the pic to take you to the respective page. Feel free to contact me with comments or general inquiries. Email is on the last page.